Located in the Southeast of Quang Ninh province, Van Don district has more than 600 large and small islands, with an area of nearly 2,200 square kilometers; in which, the land area is about 580 km2, the rest is the sea surface area, formed by 02 islands of Ke Bao and Van Hai. As the gateway to the dangerous and sheltered sea, off the coast of Bai Tu Long Bay, Van Don has a strategic position in term of national construction and defence. This place is also one of the cradles of Ha Long culture.
In 980, the Early Le dynasty set up Van post here and deployed their forces to guard the post. In 1149, King Ly Anh Tong established Van Don port, since then Van Don became the first trading port of Dai Viet. This trading port thrived during the Ly and Tran dynasties, but bears the imprint of the Tran dynasty in trade as well as in the fight against foreign invaders. In 1288, on the Mang River (Quan Lan), under the command of General Tran Khanh Du, the army and people of Tran dynasty defeated the food boats of Truong Van Ho, making an important contribution to the victory of the third resistance war against the Yuan troops etc.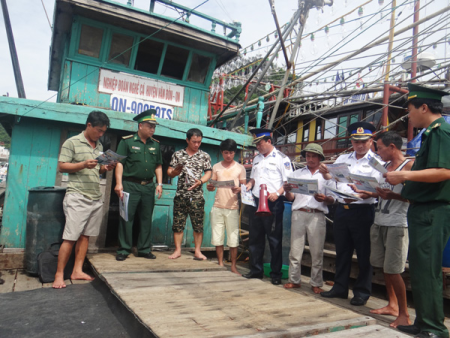 Working group of Coast Guard Region 1 conduct legal dissemination for fishermen in Quan Lan commune (Photo: canhsatbien.vn)
Recognising the strategic importance of Van Don, in 2007, the Government approved the planning of Van Don economic zone. In December 2018, the Prime Minister issued Decision No. 1856/QĐ-TTg approving the master plan for socio-economic development of Van Don economic zone, Quang Ninh province to 2030, with a vision to to 2050. On February 17, 2020, the Prime Minister issued Decision No. 266/QĐ-TTg approving the adjustment of the general master plan on construction of Van Don economic zone through 2040. Accordingly, Van Don is planned to become a multi-sector marine economic zone, a centre of recreation industry with high-grade sea and island tourist services and general services; and serves as an international trade exchange gateway with unique, distinct and modern products of high quality, brands and international competitiveness. Along with that, Van Don Van Don will be a green, modern, smart and sustainable sea and island urban centre. It will be of national defence and security importance.
Currently, the economy of Van Don mainly comes from aquaculture and fishing; forestry planting and exploitation; sea tourism services; and mining.
+ Fishing is a long-established industry, but mainly inshore fishing. Offshore fishing and aquaculture have just been developed since 1995.
+ Forests on the islands are home to many kinds of valuable wood. There are also precious birds and animals, in which some species have been listed in the world's red book.
+ As embracing Bai Tu Long Bay, with many beautiful caves and beaches, fresh climate, tasty seafood and many historical and cultural relics, Van Hai island route has great potential for developing tourist industry.
+ Coal mining is conducted in Ke Bao, but currently the reserve is very small. Van Hai white sand mine with a reserve of over 13 million tons is currently under exploitation. Cai Bau iron ore mine reserve is estimated at about 154,000 tons. Placer gold and gold in iron ore have also been found in Cai Bau.
All of the above factors are important bases for attracting investments to Van Don, and the basis for the District to distribute its population, make plan of urban space, functional areas and technical infrastructure, in order to ensure a sustainable living environment, and promote socio-economic development associated with strengthening defence and security in the strategic area.
TRAN TOAN